Innuendoes...
Available now: -
Publisher Prefix - 0 9531189. ISBN - 0-9531189-0-8
Below, are Pictures and Characters featured on this Website and on the cover, and inside pages of the book Innuendoes...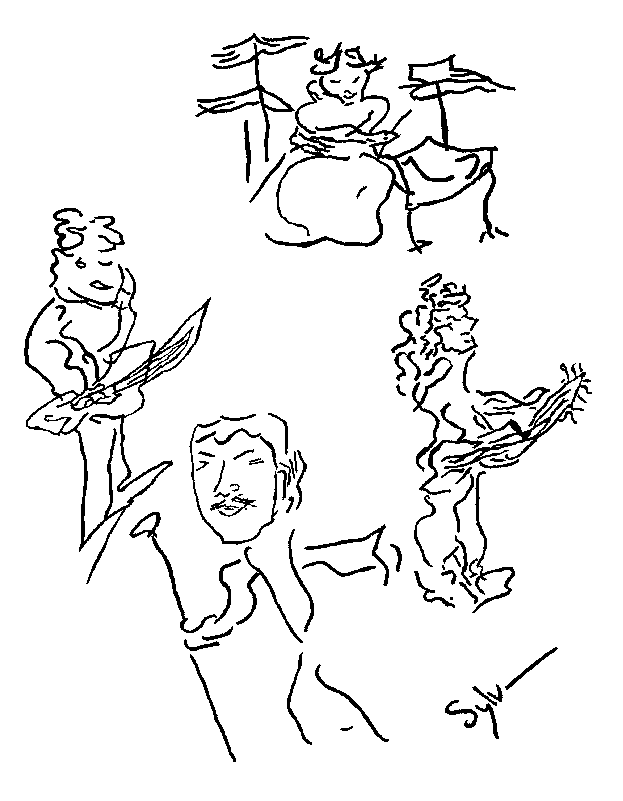 With Freddie Mercury and Queen, "You Might Get Fried"...
Above is Lily May, and the Q, is as in Queen. As always, there is a Metaphorical meaning behind everything associated with either the book Innuendoes or the music and this even includes such titles as Lily's name, because even this is a Metaphor. And these images are no different, Lily's hair for instance, is almost drawn as Snakes - as in Medusa. Re: Innuendo Album inner-sleeve and its details. Also re: Love Token - with the quote, "Long Haired Women going to turn you to Stone" - this was the Trait of Medusa - but in this case, the event doesn't result in someone turning into Stone, but instead, this person turns into a Living Stone. For further insight, re: the Bible, and the book of Peter - Living Stone and the Holy Nation.

The character drawing above, is known as Burns, because of it's Metaphorical link to the program The Simpson's (Satellite/Sky program). But however, it's true Metaphorical value, can be found within in the symbolic meaning in each picture.

The above image is simply entitled the "I Know" picture. Once again, this is a loose drawing of Lily May - and it marks the point of Realisation. This is when Lily begins to "Unravel" the clues as found in Queen Music. I have highlighted the word "Unravel", as it in itself is a clue word, as found in the song "I'm Going Slightly Mad". This entire song is just a straightforward Riddle, and when you are decoding this riddle or rather the song, the line "Unravelling Fast it's True" ties in with the visual clue on the video for this song. This depicts bandages being unravelled which is in reference to a British T.V Program called The Invisible Man - From this clue, we get the linking song The Invisible Man etc. etc. etc.
Hit on any one of the Pictures above, to return to our main page or simply click on our banner below...