<![if !supportEmptyParas]> <![endif]>
<![if !vml]>

<![endif]>
This Website features the book
"Queen & Freddie Mercury - INNUENDOES"... ISBN 0-9531189-75
Available online at most Online Book Shops - Click here, for a list of where to buy Online... If you have difficulty obtaining this book, please feel free to write into us, and we will do what we can to help you...
<![if !supportEmptyParas]> <![endif]>
Meeting with Queen and Paul Rogers…
<![if !supportEmptyParas]> <![endif]>
I am the walrus....
Went to the show in Vancouver (as in the Queen and Paul Roger's concert thingy), to do this Meet `n Greet thing with Queen. Should explain that it was arranged via some Radio Station in Canada (kinda competition - win to go type thing? - Margaret won, took me with her - cool Holidays ago-go!!! jeez, that was a real head-rush, no dosh, no one to water the kids, not to mention no passport either - and only 4 weeks to get it all together - Oh and about 2 weeks before I was due to fly out, I was rushed into hospital and was very very ill & it took them a very long time to stabilise me with fluids and things, ARR what ever next!!!)... Personally I did not believe that the Meet `n Greet thing was for real, thought it was just one of those Radio Promotional things, whereby they say, but don't deliver (yea, you know the type of thing?)... Anyway - Well done to the "Q" Radio Station (yes, they really are entitled Q Radio - should have known really!!! - both corny and ironic but obvious really - lol...)
Anyway, went down this ramp, and got hassled by this Plastic Man (his face kinda looked fake? never met anyone before who had kinda Plastic looking skin, guess that's what happens when you have too much plastic surgery done on your face to remove the signs of ageing - but boy does it look tacky and also to be honest, it takes the beauty out of the human face. A little is okay, but there can be too much of a good thing you know???). Regardless, this guy seemed to be digging for something or other, I wasn't too amused as he made us feel rather on edge - but all in all, he seemed nice enough. He kept chatting about how he knew Paul Roger's girlfriend, and of how he'd been here and there, and to England to see Polo - I asked if it was Horse or Grass Polo, he said horse... He was asking what our connection to Queen is, I did not talk to him about my being a Book Writer and so on, because as I say he was making me feel very uncomfortable and he remarked on the look I was giving him, but to be honest, I felt he was asking way too many questions about us personally, and so I didn't really trust him - blah blah blah - yea, yea... (but for what it's worth, Mr. Plastic Man seemed nice enough in himself I guess, and I don't wish to offend, but it is VERY worthwhile considering how you come across to others who do not know you). Mind you, he had two back-stage passes, so I guess he wasn't all bad...
Anyway, then we finally got taken to the correct meeting place, and we were given some Arm Bands by a Cranky Guy (Mr. Cranky as he affectionately became known as). Then we were taken down a ramp and into a room (re: pix), which looked like a type of cafeteria for workers. There were about 14 of us there - and we were told to split into groups of 2 and to stand at the wall. I turned to Margaret and said, what are they going to line us up `n shoot us now? Margaret and I kinda stood there, then thought oh well, and went and stood a little way-away, next to the round tables - then we just grabbed a chair each and sat down. Mr. Cranky then turns and goes "Be respectable to the band, they will be here in 5-10 minutes, don't run over when other people are talking to them etc". He added that we were allowed only one picture per couple, (so we were to share one camera basically), and we were allowed one autograph each, and that we were allowed to ask them to sign one thing only.
Anyway, Margaret and I were sitting there, going though our stuff, getting our cameras ready, and our bits and pieces - didn't know quite what to expect really. She just wanted to lay down, I just wanted a cup of tea - talk about stressful... All the way through this thing, we're like "what the hell are we doing here, what's this all about?" - (strange really - like what are the chances against this meeting ever taking place? (INNUENDOES Readers will understand this fully!!!))
So yea, we're just sitting there, and Margaret goes, oh there's Brian - I'm like err? turned around and yea there he was - he seemed taller than I remember (wonder if it was those shoes, or if he'd just perhaps put on a little weight which suited him I might add - kinda weird, as he seemed to hover around the room, as opposed to walk - cool wish I could do that).
Anyway, we remained sitting there, heck jet lag in my case (think I would have fallen over if I'd have stood up!!! - woo that's heavy stuff)... Brian's like over there, and Margaret turns to me and says, oh he's wearing Harvey's house coat (Harvey being her hubby), next she noticed those Adidas Trainers (sneakers/running shoes) and he had like a silvery dragon design on the leg of his trousers (by the way those trousers where highly see-through on stage when caught side on in the spot lights, got a few remarks about that from other people as it turned out).
As Brian made his way around the room, Mr. Cranky told us to stand up - which was kinda sensible, else we might have been missed out - so yea, crawled to our feet. Then Paul came in the room - Brian was still making his way around the line up of people - "hand shake, photo, sign" - lol - guess these guys have done this before!!! Paul kinda didn't hang about - he's like whizzing through the people - by this time, we had as I say, already climbed back to our feet - but was just so very relieved that we had stood next to those tables to begin with (emm, very Queensway Hall I might add, where those tables are concerned - talk about semi-flash-backs).
Anyway, after Mr. Cranky (AKA: P.R Alfie Williams) had ordered us to stand up, Brian wanders over to us - firstly Margaret. He shakes her hand and asked for our names. I explained that I had jet-lag and that my voice was off cause of the dry air during the flight, he seemed okay with that... He asked where we came from, Margaret explained where she came from, he asked me, but I just said England (I think he actually meant which area of England do I come from, because obviously I'm English - yea jet lag ago-go talk about thick!!! but the reason I said England, is because I don't like to be pinned down to any given area - ekk) and I also said that I was holidaying with Margaret etc. Margaret explained to Brian that she had seen his concert in Portland, and he replied that yeah, it was a good concert (but didn't say it with much enthusiasm). Margaret went on to say, that he should come to Victoria, as they had a new multiplex. He said "oh here", she said, no, over on the Island in Victoria. He went on to say that this tour had been pulled together quite quickly.
We were asked for a Camera, so we both gave our cameras over (2 is better than one anytime!!!). They took the pixs (that was kinda weird in itself, sensory wise, not overly sure how to explain that one though). Must add, that Brian has one of these stares where he appears to be attempting to look right into you as a person - like he's looking for something inside you (sure it's only just one of those things, and not meant to mean anything at all) but it did come over as a type of statement of sorts, not in a negative way though - but more so, something recognisable from my point of view at least - like yea, we've been here before type thing? which is true anyway one way or the other... Strange one always has to question who feels most impact, the person who does it all the time, or the visitor to the situation. Anyway, blah, blah, blah (could rattle on all night here - best slap a restraint on me, else I'll end up writing a book on this - lol). So yea, we asked Brian to sign some stuff.
<![if !vml]>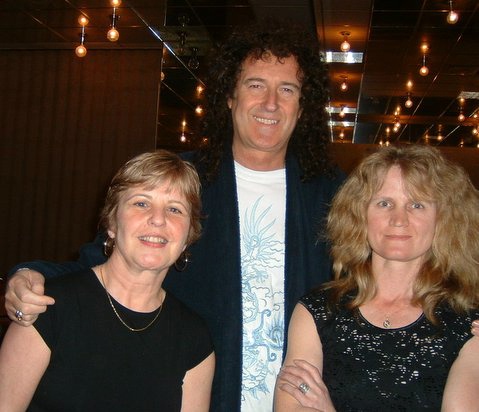 <![endif]>
Margaret asked that he sign her White WWRY Cap. She asked him why the WWRY show in Las Vegas had closed, he said it was going to be opening up in Toronto instead... I asked him to sign an old black and white picture of myself and my two little sisters - I said it was for my sister Fran - so he wrote it over to her and signed it for her. I told him that I'd promised to get it signed for her... Then I turned and said, oh I've got something for you, and put my hand in my pocket, and put it in his hand, and said that I'd heard that people had been taking his - then I gave him the sixpence (year of 1964 which was cool I guess). He thanked me and so on. I said to him that he had very cold hands, weird as I don't normally grab people's hands but his sure were cold and I turned his hand over to look at it - kind of an odd thing happened there, perhaps it's just that normal staring match one has with someone from time to time - but yea, been here before, and it was kinda odd as I say, cause I'm staring up at him, he's staring back, and I'm thinking, emm, we've been here before haven't we, and I've meet you before, haven't I. And I'm also thinking about all the INN stuff, and Fred and so on...
Sometimes in those instances, an ongoing stare can seem to take forever - guess the mind processes a lot quicker than the spoken word... I kinda had the feeling he was looking to be healed in some way, but then I guess that's the Spiritual Side of me talking, so I won't ramble on about this just in case I'm accused of talking shit - but I've been there before where Brian is concerned... Margaret said after the meet `n greet, that she could see that there was something going on there, which is why she grabbed his other hand, and yea we both agreed that he had cold hands, and he said "Cold hands, warm heart"... He said he would use the Sixpence for the show, and I said, bet you don't but he said he would, bless him... You know, as I was watching Brian wander around that room, talking to the people, it was like he was some sort of Messiah or something, perhaps this had something to do with the way he was almost bowing down? or the way they were looking up? or something?, but as I've said to the others, he came in as a Messiah, but went out a man - like something had lifted off him, or something had changed within him? - but yea, as I say, spiritualism and what one senses, are always up for questioning, which is why I don't want to go any deeper into this... But from my view at least, something happened there, not quite sure what it was, perhaps it's a Fred thing...
Anyway, ramble, ramble... Funny cause around that time, I'm pretty sure that Paul caught up, and one turned to the other and said "Who are you", and they laughed at each other (but for the life of me, I can't remember if it was Roger or Brian having the joke with Paul - but yea, it was funny all the same and good timing as it was put by one of them)... Some of this meeting is still a bit misty, but it'll come back to us in time, once we've settled back down again no doubt.
Anyway on to Paul. He seemed like a real pleasant chap. He shook both our hands, and we did the photo shoot - didn't actually ask him to sign anything, not overly sure why? - Sometimes things go in different directions than you expect them to.
<![if !vml]>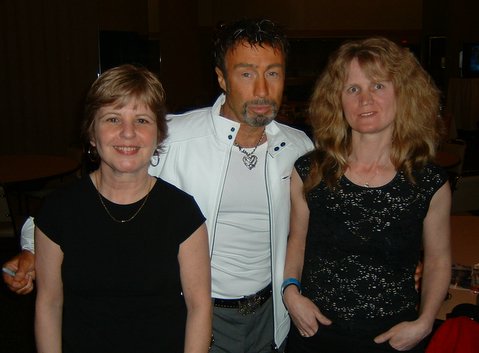 <![endif]>
Margaret asked about the area in which Paul lives, and made some jokes about where to park the motor home. I started saying to Paul that I'd heard that he'd fallen down a few piano pits and warned him to look after himself, we all laughed about it. He told me about how he'd fallen down the piano pit, as had Brian, but Paul went on to say that they wouldn't do it again, as now it was Roger's turn... I touched this metal emblem thing he had on as a necklace and asked him about it. He said it represented peace or something (although in truth I didn't catch everything he said as there was a lot of noise there). I said, oh I've got one of those too, and pointed at mine, he held it and asked about it, I said it was `RAZ (this was the necklace that Janine brought me for my birthday). He asked for more info on `RAZ, I said that it was to do with Spiritualism. He wanted to know more, so I said about the Book Of `RAZ, but admittedly I felt awkward talking about such a subject (not the time or place and so on) so I said he should ask Brian about it as Brian had already been given the Book Of `RAZ and that he'd know??? (interesting to learn that Paul is said to be very spiritual, I always considered Paul to be very open, spiritually speaking, but it's always nice to sense that for one's self). Margaret asked Paul to sing "I want to Break Free" and Paul then sang a bit of the tune for Margaret as he made ready to leave, and he said that he hoped we'd enjoy the concert. Just as Paul was leaving, I said to Paul that perhaps he should sing I Want To Break Wind, but then Paul and I joked that perhaps not, as the audience wouldn't get it... (sure hope not anyway - nothing worse than an entire audience with wind!!!)...
Roger....... Arr, just discovered music on this here computer in Victoria, so perhaps now, I can get the rest of this here report done and dusted - strange how music helps to put one in that mood for writing, I think it just relaxes us and sends us to a safe place somehow?... Funny, loaded up my MP3 player onto this computer, and the first song it comes up with on shuffle, is Dry County (Bonjovi) - guess if you guys haven't heard this song before, that perhaps you should listen to it now... Okay, getting back to my notes on this here, Meet `N Greet thing, now where are we? oh yea, Roger...
So yea, usual hand shake, greeting thingy do-dar-what's-it... Then into photo mode - yea, must admit to having had blinked on one pix, and said to Roger, oh I blinked, he said, not to worry (and he was right you know, cause the pixs came out fine anyway - can tell he's very use to that type of thing...).
<![if !vml]>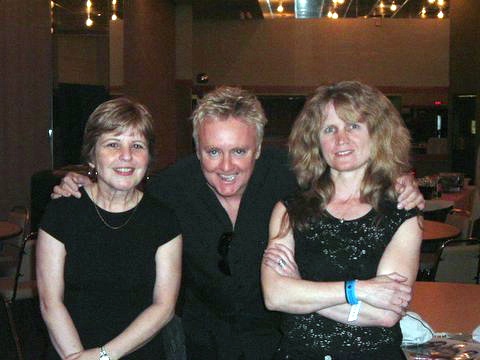 <![endif]>
[Trouble I have here, is that this meet `n greet was a good few days ago now, and now I'm forgetting in which order this all went, so will do my best to get it the right way around, but apologies to Queen if the events are back-to-front, but heck, tie that old jet-lag, lack of voice and brains in with the shock of actually going to this event, and hey-presto, you've got a confused and mixed up mind - like what the Fluck was that all about anyway]...
Yea, yea, so there we are, getting our stuff signed. Firstly Margaret. She talked about where her Cap came from (the WWRY Cap) which he was signing. We were talking about this and that, and Roger said that Margaret really should come over to London to see the WWRY show, as the version she had seen in Las Vegas was only half the story. I said that we'd already brought the tickets for the London WWRY show (for one of the final showings October [the night before the final showing]) and that we were trying to get Margaret to come. And he looked her right in the eyes, and said that yes she should come. And I said that the WWRY show, is very INNUENDOES - then there was complete silence, could have heard a pin drop... (hey, now onto The Continuing Story of Bungalow Bill - Beatles - have so missed my music)... Anyway, I asked Roger to sign the pix of myself and two sisters (this is the pix taken in 1979 - I had a copy for me, and a copy for Fran). I explained to Roger about the pix, and that they were my sisters (Fran and Debbie), and he asked me what I wanted him to write. I just said to write anything, or for him to draw one of those circles (like in cartoons) which depict what the character is saying?. So he thought for a short while, and then wrote something for me, and I said I'd read it later on (re: Pix)... (Strawberry Fields - yea that about sums it up [sorry, just giving you a listing of what's playing on this here media player - don't you just love Shuffle Mode])...
Had explained to Roger about my voice being bad etc, and then I said that my voice sounds like his, and he says, why what's wrong with his voice (all in jest you understand people). Margaret turns to me, and says, yea you can sing I'm in love with my car now, so I do this slight performance or mickey take of Roger singing that song... (Must say, Roger has a great sense of humour)...
Also asked Roger if they are still having those after show concert parties, and he joked that they were too old now... lol - as if!!!
Oh yea, and at one point, I caught the back of Roger's hand with my thumb nail, and then rubbed my eye by accident. Then the next day, my eye got really infected, and I had to have antibiotics - hence our joke of "It must have been the DNA".
Right at the end, I asked Roger something as he was wandering off, but for the life of me, I can't remember what it was now. I do however remember that I felt kinda guilty for talking to him as he was going away, keeping in mind what Mr. Cranky had said - so yea, cause of that, my mind has blanked something or other out here... but it'll come back to me... typical capricious am I, forget the important stuff, and worry for days on end about the insignificant stuff... ARRRRRRRRRRRRRR.
By the way! - Mr Cranky turned into Mr Friendly as soon as the Meet `N Greet was over - Strange how stress can change the look or appearance not to mention actions of a person. Oh yea, and there was a point during our meet `n greet, when Mr. Cranky came in with the: "there's only 8 minutes to the show", but I must state, that the band really didn't seem that bothered, which is nice, because then we did not feel rushed, and also felt like we had a good long time to talk to Roger, Paul and Brian... It was nice that they spent so long with us talking, and it really was nice of them to take the time with us...
As for the concert itself? To be real honest, Brian looked very, very distracted throughout the show, he looked like he had a lot on his mind. Also towards the end of the concert, he really did look in pain, like his body was stiffening up. Roger and Paul however looked fine (Paul looked a little confused when they wanted to play Red House and he seemed to repeat the same terms over and over again to the point whereby I didn't recognise this song at all when I actually heard the original. All I remember from Paul's version, was that he was singing about what he considered to be his sister??). Brian as I say was very, very disarranged looking; guess he wasn't the only one. This day of this very concert, was my late daughter Christine's Birthday - she would have been 18 on this day. And for me personally, the Eminem song at the beginning of the show, kinda sent me off on one as she was very much into Eminem, she was actually listening to Eminem music when she died - so I dedicated the concert to her... With this in mind, by the time Brian had reached Love of My Life, emotions for me at least ended up being centred on my daughter. Brian underlined this for me really, cause he forgot the words to love of my life, and really did look in dire-straits - he was standing on the stage, telling himself to "Breathe". Guess I wasn't the only one with raw emotions running wild...
A lot of this concert was hit `n miss, guitar strings breaking and so on. Lots of shaking off of different emotions, and lots of confusion going on for all parties concerned... Funny cause you look down at the crowds of people, and you wonder just how closely the people relate to the people on the stage in front of them. Do people relate? - well if they choose to look, then of course they relate, and of cause they can see the pain, the disarranged thoughts and whilst they might not understand the background thoughts, they sure as hell can relate to the ongoing show of outward emotions... And whilst I find myself agreeing with what I felt back at that concert, I also am now very aware of the fact that I am leaving myself open to be shot down by Queen themselves... After all, what we see and what we sense can be so very different to what others feel... Ekk, talk about putting one's neck on the line...
Now on to a bigger question? for INN Readers at least... That of Fred... Was Fred there? yes he was there for the Meet `N Greet. Was Fred there for the Concert? well he was to begin with, then he lost interest - think there was something else going on there myself...
As for the concert on the whole, and from the point of view of the general public? Roger and Paul looked fine, but Paul is by no means a replacement Freddie. And it's for sure that if Freddie were to speak his mind about that concert, that he would be slamming around and would be shouting the odds about the sheer amount of mistakes and the lack of coordination. One thing for Freddie, he sure ran a tight ship, but as we all know, everyone has to weather the storm. `39
-----------------
Now I come to the end of totting up my notes, and the song playing (not that it really matters I guess?) is "Little Bit Of Soul" (Bonjovi)... I still have no real idea what the hell that was all about, the Meet `N Greet I mean? like what are the odds of being invited to such a thing? (Led Zeppelin - Ramble On)...
I still really feel the need to say something completely personal, from the point of view of Spiritualism or from the point of view of INN, as obviously as I say, people will ask? but in myself and within our general overall conversations, we're still left with that question of what the fluck was that all about, and what was that all in aid of. (Beatles - Let It Be) - perhaps the answer is in the song...
I could Ramble on here for ever and a day, and as Roger said, I thought we were retired.... Heck, does or rather will this life ever allow you to retire, and if you did, what would you do with yourself? Sail around forever and a day? then before you know it, you're older than old, and your regrets will reach the roof... I died without Regret? - like heck did you... I'm thinking, hey perhaps I should write another book (have several on the back-burner as it is - Frozen Nuts (which is kinda tongue-in-cheek) and The Black Book (which is very much NOT tongue-in-cheek)), but then you know, you're left thinking well what's the point to that, what's the point in sinking one's self into such a project - but then it is what one does. (London Town - McCartney). How does that old saying go? - I write because then I can be who I am, and if I don't write then I'm no-one (wonder if that's the same for people like Roger and Brian?). Often I feel like standing up and waving "Hey I'm over here" - but again, does anyone really care? - yea, back to that "What the fluck was that all about" - story of my life that one... Last song of this shuffle - "It's My Life" (BonJovi) - yea, I guess that song about sums up my feelings - A Very good motto -
This ain't a song for the broken-hearted
A silent prayer for the faith-departed
I ain't gonna be just a face in the crowd
You're gonna hear my voice
When I shout it out loud

Chorus:
It's my life
It's now or never
I ain't gonna live forever
I just want to live while I'm alive
(It's my life)
My heart is like an open highway
Like Frankie said
I did it my way
I just wanna live while I'm alive
It's my life

This is for the ones who stood their ground
For Tommy and Gina who never backed down
Tomorrow's getting harder make no mistake
Luck ain't even lucky
Got to make your own breaks

Chorus:
It's my life
And it's now or never
I ain't gonna live forever
I just want to live while I'm alive
(It's my life)
My heart is like an open highway
Like Frankie said
I did it my way
I just want to live while I'm alive
'Cause it's my life

Better stand tall when they're calling you out
Don't bend, don't break, baby, don't back down

Chorus:
It's my life
And it's now or never
'Cause I ain't gonna live forever
I just want to live while I'm alive
(It's my life)
My heart is like an open highway
Like Frankie said
I did it my way
I just want to live while I'm alive

Chorus:
It's my life
And it's now or never
'Cause I ain't gonna live forever
I just want to live while I'm alive
(It's my life)
My heart is like an open highway
Like Frankie said
I did it my way
I just want to live while I'm alive
'Cause it's my life!
<![if !supportEmptyParas]> <![endif]>
(Foot note to INN readers, ask yourself if this is a Cosmic Joke, a counterbalancing move between Ahriman and Ahura, or is it just GOD playing poker with the Devil as is that saying) – so much for Coincidence – Cheers Fred…  Now all I've got to do, is find out why?  Perhaps GOD is trying to tell me something? That or GOD is trying to tell Queen something? Do you think there's any such thing as a Cosmic Set-up? Or is it all Manmade?  Man this life is weird!!! – Yea – perhaps you're right – Queen meets Queen – check mate – or is that – cheque mate – lol… Chess…
~~~~~~~~~~~~~~~~~~~~~~~~~~
<![if !supportEmptyParas]> <![endif]>
<![if !vml]>

<![endif]>
<![if !vml]>
<![endif]><![if !vml]>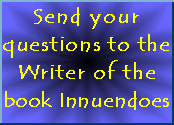 <![endif]>
<![if !vml]>

<![endif]>
<![if !supportEmptyParas]> <![endif]>
<![if !supportEmptyParas]> <![endif]>
<![if !supportEmptyParas]> <![endif]>
<![if !supportEmptyParas]> <![endif]>